Boks' prowess to inspire lesser African peers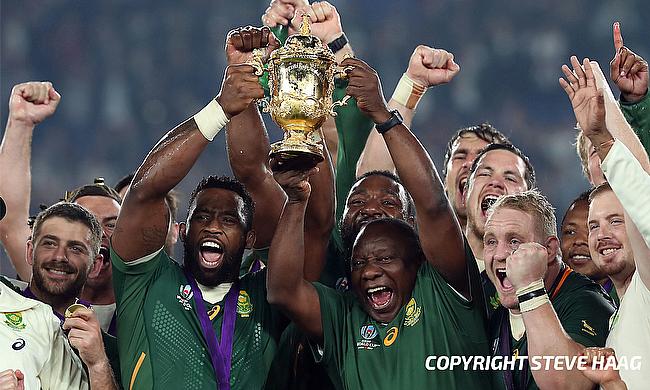 ©Steve Haag
With Namibia and world champions South Africa being the only African nations to truly enjoy any sort of positive notoriety on the international stage, the door is very much open for a 'third way' – but which African nation, if any, has a chance of becoming a World Cup newcomer? Additionally, we look at how they might tactically emulate South Africa on the road to new heights.
Kenya number one on the World Cup 'maybe' list for 2023
While Kenya are yet to make a World Cup finals appearance, there is no doubt that the 'Simbas' are going in the right direction, having registered their best qualification campaign to date. They took 474 points from seven wins, representing their best scoring rate from any previous qualification campaign to involve five or more games.
However, they would find the repechage tournament to be a punishing experience, finishing last and losing each match by margins of over 25 points:
From a Kenyan perspective, the only bright point of the entire repechage was the kicking of Samuel Oliech, a winner of the Singapore Sevens back in 2016.
Memories of 'East Africa' team could boost Tanzania
At the time of the World Cup qualification draw, Kenya and Uganda were respectively ranked 27 and 49 in the world – enough to put them inside the top seven African nations. Curiously, despite this relatively high ranking, they border countries that have no discernible presence in international rugby.
Amongst such nations is Tanzania, which once formed part of the East Africa rugby union team alongside Kenya and Uganda. The sport is generally seen as minor but growing in Tanzania, and the efforts to diversify their sporting output continue.
For instance, events such as Right to Play, with former England captain Mike Tindall amongst its participants, contribute in their own way to raising the necessary funds. However, those funds alone won't thrust such countries to South Africa's heights. In a tactical context, the developing rugby nations also need a setup to look up to and emulate to their best ability.
(Above) Ten of the biggest African rugby nations in existence.
Never a better time for Kenya et al.
With the Rugby World Cup trophy returning to African soil for the first time in eight years last November. As such, there has arguably never been a better time for other African nations to invest in developing a world-class rugby team. Only last year, Algeria became the latest African nation to become an associate member of World Rugby, though the last African nation to gain full membership was Mauritius, back in 2009.
Naturally, Algeria's associate membership will readily conjure associations with the influence of rugby in former French colonies, and how that may act as a spiritual launchpad to full membership in years to come. The nation's start to life has been reasonably encouraging, with their 16 matches played up to October 2018 yielding a record of 12 wins and four defeats, between 2016 and 2017, they also made a one-place improvement in the African Tri-Nations, moving from third to second.
What 'up and comers' can learn from 'Boks'
The key to South Africa's success at the 2019 World Cup was their kicking game and, specifically, the box kicking of the designated scrum-half. Ultimately, if a penalty is remotely kickable, then the call is going to be a shot for goal. It is a purist's game, something that modern fans that want to see attacking rugby don't care for.
However, it is hard to argue with the effectiveness of the tactic, especially with South Africa breaking down England in Yokohama time and again, despite being considered marginal outsiders. As a simplistic style to follow, other African nations hoping to close the gap behind Namibia and Kenya can use it as a foundation to stick to when faced with superior opposition.
The reason South Africa can play like this is because of their defensive shape, never missing a tackle, and using a 'spoiler' in their defensive press, rushing him up even faster than their outstanding line speed to stop the wide pass and make the opposition bring the ball back inside. This means their jackals can be all over the ball immediately, slowing it down or looking for a poach depending on the situation.