The most memorable nicknames in Rugby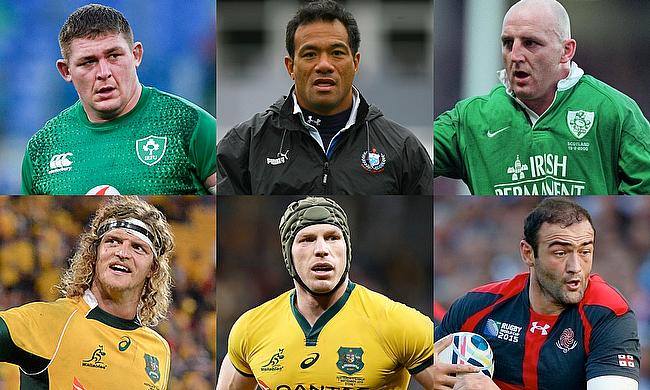 ©TRU
Rugby is a sport full of personality. Over the years, we have seen some immensely eccentric characters take the pitch.
Let's be honest, you have to be a little crazy to play this hard-hitting sport as it is. The most colorful and well-loved players are honored with nicknames that set them apart from others.
Professional sports as a whole are rife with nicknames. These are considered terms of endearment that bring the fans to a more personable relationship with the athletes. Across many industries, from professional wrestling to poker, you weren't a real challenger until you had a nickname. Rugby is no different in this respect. Throughout the years, we've heard a lot of nicknames that represent the player's attributes, personality, or where they come from. Here are some of the most memorable in professional rugby.
Tadhg Furlong: Rikishi
In the world of professional wrestling, ridiculous nicknames and over-the-top personas are just the norm. Many other professional sports have borrowed elements from the iconic characters found in pro wrestling. MMA fighter Colby Covington walked out to Kurt Angle's introduction music, NFL football players imitate wrestling moves for their touchdown celebration dances, the list goes on. Rugby is another sport where bits of pro wrestling history have made an appearance.
Irish tighthead prop Tadhg Furlong was given the comical nickname Rikishi. Now, the word "rikishi" is actually borrowed from sumo wrestling, as it literally translates to "wrestler." However, it is from the sumo-esque character that was popular in early 2000s WWF professional wrestling that Furlong was named after. When asked why he was dubbed Rikishi, he said that "his belly gets a good flash on television." Thus, other players started calling him WWF and then finally Rikishi. At least Furlong can get a good laugh out of it.
Brian Lima: The Chiropractor
On a less humorous note, Lima was given a nickname that helped bolster his fearsome reputation. Because of his distinctly aggressive and punishing style of tackling, Lima was dubbed The Chiropractor. Legend around the league is that the force of his hits "rearranged the bones" of the recipient. Certainly a ferocious and formidable nickname for the serious Samoan.
Keith Wood: The Raging Potato
This is a classic that rugby fans will remember fondly. Keith Wood was a front-rower that loved to carry the ball. With his distinctive physical attribute, his bald head, it's not hard to imagine where the inspiration for this nickname came from.
Nick Cummins: The Honey Badger
Australian wing Nick Cummins has led an exceptional life thus far so naturally, he received an exceptionally animated nickname to match. For his wild mane of hair, aggressive playstyle, and never-quit attitude, he was dubbed The Honey Badger. This particular animal is known for being a ferocious little creature that never shies away from a fight with a bigger animal. While standing at 1.89m Cummins certainly is not the shortest player on the pitch, he still shares a similar attitude with the badger. Cummins has seen a lot of success both in rugby, and outside it with his appearance as the star of the sixth season of The Bachelor Australia.
David Pocock: Bam Bam
Rugby is a sport filled with monstrous athletes. The Australian captain Pocock is another imposing figure, standing 1.83m and 103kg. He is a strong force when he takes to the field. His nickname Bam Bam refers to the loveable young character from the Flintstones that used to clobber dinosaurs with a giant primitive club. You can see the association they're making here. Bam Bam must be a popular term in Pocock's homeland of Australia, as several other athletes have adopted the name over time. Most recently it was used by the UFC's heavyweight slugger, Tai "Bam Bam" Tuivasa.
Mamuka Gorgodze: Gorgodzilla
When it comes to comical and visual names, the Toulon lock Mamuka Gorgodze may take the cake. By now it's clear that the majority of rugby nicknames are given based on physical features or their playstyle. Gorgodze towers over the competition due to his massive 1.96m height and 118kg frame. For this reason, he was given the very appropriate nickname Gorgodzilla, drawing inspiration of course from the Japanese giant-monster film classic Godzilla.