Review of the popular Rugby Star Free Spins Slot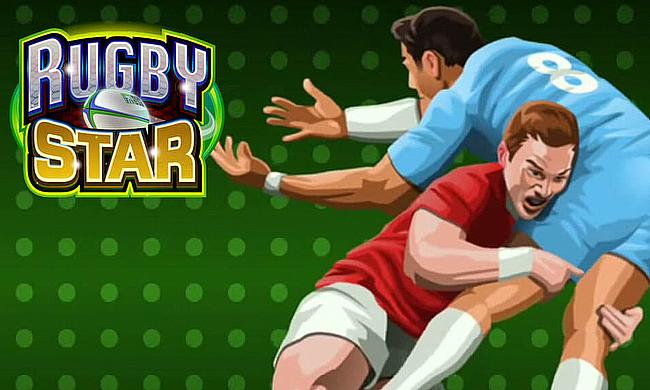 During this time of quarantine, it can be hard for rugby fans and players to not have the opportunity to get involved with rugby.
Games and leagues all over the world have been delayed. However, it may bring some joy to play virtual games that remind you of the sport. And with Rugby Star Spins Slot you can also win some money while you're at it! With certain online casinos you might even get extra bonus cash, of around $1000 to start you off for being a new player.
You can try Rugby Stars at RTG powered online casinos.
The game
Imagine a slots game where instead of Jacks and Kings and Queens for symbols, you've got rugby players, a stadium, some rugby gear, and even a trophy! Featuring players from England, South Africa, New Zealand, and Australia, Rugby Star will take you straight to the rugby world cup. With a great music track complete with cheering, you will immediately get the feeling of triumph; and with such great winning potential, it's likely to soon be yours. There is also a range of the amount of money you can wager; from the high-rollers looking to score large, to the players wanting to have just a bit of betting fun.
243 ways to win
Rugby Star is a 243 slot game. Here's what that means:
Back in the good ol' days, a player at a slot machine could watch closely to see if their one pay reel would show all matching symbols; and that was thrilling enough. But then developers began to find ways to make playing slots more intriguing by adding more paylines. Nowadays, especially with online slot video games, there are 5 reels, each with 3 symbol positions. With some not-too-terribly-complicated math, 3 is multiplied exponentially 5 times or 3x3x3x3x3 to make 243 combinations and possibilities to win. All you need is for at least 3 adjacent rows starting from left to right to have matching symbols and you've got a win. So with the same bet placement, you now have all of these winning opportunities and greater chances for a payout.
Cascading rolling wheels feature
This game allows for a rolling wheel. That means that when there is a win, the symbols are removed and then replaced by other symbols, so that many consecutive wins can happen in one play. This also gives a nostalgic feel to it, reminiscent of classic video games like Tetris.
Lots of winning potential
Before we get into the bonus features, let's look at your regular wins. When you get one, there is a great blast and fireworks shoot out where the winning symbols used to be. And you get coins, which of course translate to money; how much depends on your bet. But each symbol is worth a different amount. Here is the breakdown:
• Rugby boots - 70 coins
• Protective helmet - 100 coins
• Trophies - 120 coins
• Wales player - 125 coins
• Aussie player - 150 coins
• New Zealand player - 250 coins
• South African player - 300 coins
• England - 600 coins
The game also has wild cards, which of course can stand in for other cards if they'repositioned right where you're just missing a match. You can often get a whole reel that fills with 3 wild cards which is super fun and guarantees a win.
Scatter feature
But the real fun happens when you get 3 or more scattered rugby ball symbols. With just one or two of them, things are still neat, as it allows for wins even when like symbols are not positioned exactly in the right order. But when you get 3 or more, you get free spins; lots of them. 15 free spins for 3 scatter balls, 20 for 4 of them, and 25 for 5. The whole thing sets off wildly and spectacularly. The music gets louder, and you just sit back and watch as your cash stacks up and up and up. You will really feel like a champion. The cascading feature already will add to each win, but two more reasons can make the free spins session a chance for epic wins:
1: The multiplier trail:
The multiplier trail allows you to enhance your wins many times over. In this game, it is activated by the free spins series, triggered by 3 or more scatter balls. Every time you get a win during one of these free spin sessions, it will increase the multiplier trail from 2x to 3x to 4x to 5x to 10x. It is highly exciting to watch as your earnings multiply by more and more each time you win.
2: Wild feature
The wild symbols are stacked in chunks of 40 on reels 3,4 and 5. So during a free spin session, you can win many times in a row, activating and reactivating the multiplier trail until your wins are being pushed 10 x over. Wow! With all of these awesome features, you are sure to get some real enjoyment from this game and have a bit of fun betting with such an appealing theme. Happy playing and happy rugbying!