Adidas Predator Malice Control SG: Ice Yellow/Cream White/Trace Royal - Review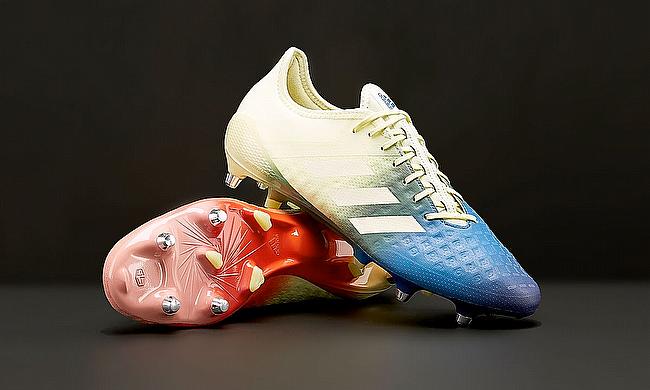 ©Adidas
We've managed to get our hands on the new Adidas Predator Malice Control SG: Ice Yellow/Cream White/Trace Royal boots, and here's what we thought of them.
Visually
Not as bright as some of the boots' cousins, these boots are by far subtler than , some of Adidas' previous releases. Each boot features colours of the LGBTQ flag in more subdued fashion to what we're probably used to.
No stranger to playing with a pair of rainbow laces I was more than happy to wear these boots, regardless of their message.
The boots are really easy on the eye, the white blends really nicely into colour. Like previous Predator Malice's, these boots have asymmetrical lacing that opens up the surface area for kicking.
On the upper of the boots over the toes, there is thin layers of raised dots that give you increased control when kicking the ball in wet conditions. Thest raised dots, like the boots' colours, are really subtle and aren't that noticeable to the naked eye.
Performance
Having been brought up on Adidas boots, I was really excited to see how these top of the range Predator's would perform out on the pitch.
What I noticed first of all was how light my feet felt after I put the boots on. Sometimes you feel like you're running through water, so it was refreshing to feel like I could change direction and speed with ease.
This would have been helped a lot by the sprintframe technology that Adidas have used. Raising the heel by 10mm means that you're nearly always ready to start sprinting.
Also, the Speed Traxion stud alignment meant that my bodyweight was distributed more evenly, allowing me to change direction much easier. I can imagine that this will be extremely helpful when Autumn really kicks in and I'm playing on bogs rather than pristine grass.
Whilst not a regular kicker of the ball, I took the boots down to my local rugby club to give some kicking a go. Where I was surprised by feel that I got for the ball through the upper of the boot.
I felt that I got a lot of control when kicking from ball in hand. As much as my kicks weren't the greatest, I felt like the added traction given to me from the raised dots on the top of the boot meant that there was less chance of scuffing the ball.
Comfort
Fitting comfortably around your feet, it feels like you're wearing a pair of socks rather than a pair of boots. This is aided by the sole being made from cushioned waffle foam offering both comfort and stability when running.
Only drawback that I had was that I could only wear the one pair of socks, which just made things a bit uncomfortable at times, especially on my heal.
There was very little stability in my opinion around the ankle area. It just felt that you were at risk of rolling your ankle whenever you quickly changed direction, which is a concern. In addition to this, at the heal, the boot goes quite high on your achilles which I found quite uncomfortable at times.
Overall

After testing these boots it is fair to say that they were really comfortable, dependable, good-looking and, well, a really good pair of boots. Adidas' marketing talk about the sprintframe and speedtraxion technology might not just be talk after all.
Adidas seem to have done it again and stayed ahead of the curve with some class rugby boots. Problem is all this tech and boot performance comes with a £180 price tag, deals are readily available on the boots though, so don't expect to pay this much now.
Definitely made for an outside back who is more likely to be earning all the cash anyway the Predator Malice Control are probably worth the money, but cheaper versions are available.