At home like a Pro: Allett Mowers sponsoring 6 Nations with TRU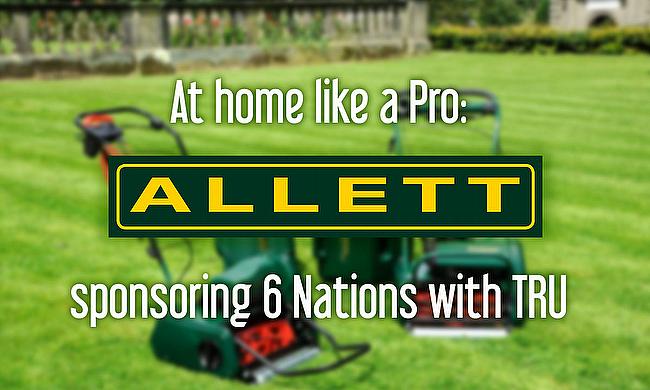 ©Allett Mowers
As highlighted by the team at #RugbyUnited the resources required to run a rugby news and social media channel are fairly high.
There is a requirement for enthusiastic volunteers but also professional contributors. During the 6 Nations this is more so than ever with rugby news door to door every day for 6 weeks. The tournament for many people is the start of the rugby union season not the mid-way point. The tournament itself is on free to air TV which encourages the public to get involved in Rugby Union. All the 6 Nations rugby news is here at TalkingRugbyUnion.
This year we are delighted to have a commercial partner in
Allett Mowers
. As we sat at Twickenham on Saturday the playing surface looked immaculate and with help from Allett Mowers, professional rugby globally produces surfaces for the very best games. We aim to let you see the benefits for your clubs but also your garden at home. You can learn more about Allett here
https://allett.co.uk/about/
We anticipate a very strong 6 Nations particularly after Ireland beat the All Blacks and Italy beat the South Africans before the tournament. With Scotland's victory over Ireland last weekend and the seeming return of the French, this year's 6 Nations will be better than ever.
This weekend the attention turns to:
Italy v Ireland
Wales v England
France v Scotland
Eddie Jones described England's performance against France as awful – today he has turned his attention to the M4 – the master of communication?
The teams are all looking at injuries including Parisse, North and Biggar. The strangest injury news came after Saturday's game when it was announced George Kruis would be out for 3 months – in a world of false news and alternative facts this was an amusing sequence of events. On Friday, it was reported Kruis would be out for a couple of weeks, on Saturday at a hospitality event at Twickenham this remained the line, albeit Kruis needed a chair to be brought on stage whilst Ugo Monye asked the questions. Let's wish Kruis a speedy recovery.