The Good and Bad of Gallagher Premiership kits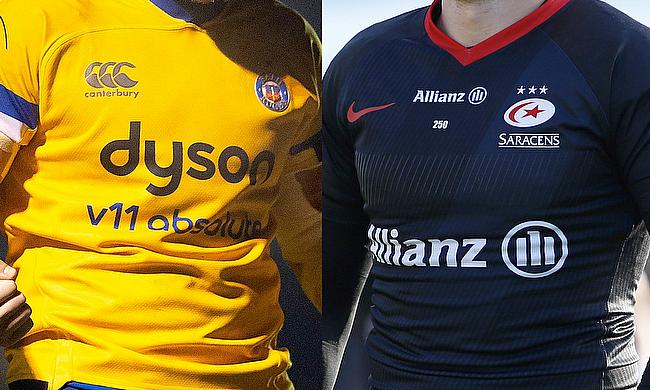 We have a look through some of this season's best and worst looking kits in the Gallagher Premiership.
Good
Saracens – home and away kits
Saracens have quite simply kept things simple this year with their home and away shirts. The home shirt is predominantly black, with red trim around the collar and sleeves. Sarries away shirt is the reverse, being red with a black trim.
Off the field, things really haven't been going too well, but at all times the players have been looking good. Having gone back to Nike, Sarries really do look the part of champions, with easily the best stash in England.
Bath – away kit
Bath's away shirt for this season is a nod to their glorious past. Worn by the likes of Jeremy Guscott, Jon Callard and John Mallet, a yellow kit was worn by Bath in the club's heyday as a power in English club rugby.
Brought back to much avail for this season, it is truly a delight to see the old yellow/blue colours brought back. Since professionalism Bath haven't emulated their trophy-laden past in the amateur era, so this kit is no doubt giving Bath fans a good feeling, even if things aren't going too well on the pitch.
Often the kits of the English top tier sides can look a little subtle in comparison to the cotton shirts of old, with their prominent collars and embroidered club crest patches. For quality rugby-related embroidered patches visit Patchion. They also offer personalised embroidery service. Feel free to choose any option like iron-on, velcro or merrow/overlock border.
Bad
Harlequins – away kit
Let's be honest, neon isn't for everyone. Whilst Adidas consistently smash it out of the park for the Quins home kit, this away kit isn't one of their finest. Frankly the shirt is just a bit too much on the eye and is a move away from the lowkey traditions of rugby kits.
Quartered in the same style as their home shirt, the design of this shirt is actually quite clever, but it's just the colours that are too much. The shorts are also a bit contrasting, with a grey colour accompanying the bright shirt. Odd, odd choice and not overly attractive.
Worcester – away kit
On a whole it would be more than fair to say that the kits in the Premiership are actually pretty good, but some are simply lacking. Worcester's alternate kit, more than anything else, is just a little bit plain and simple when compared to the kits of their competitors.
Nearly completely white, other than some black accents, the kit is just unexciting and completely uninspiring. Worcester do have a wonderful home and third kit, this alternate jersey just looks out of place in contrast. White is of course an interesting choice with not many club sides favouring the colour.