Nate Ebner: Rugby international and Super Bowl Champion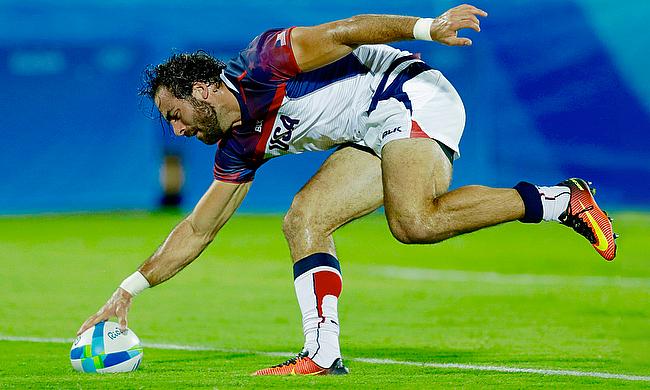 The Super Bowl of American football is all set for Feb. 7th.
The defending champion Kansas City Chiefs - favored side of New Zealand All Blacks stars Beauden Barrett and Israel Dagg, both of whom traveled to Miami last year to watch their beloved Chiefs win the title - are the 3.5-point favorites in Super Bowl betting, even though their opponents, the Tampa Bay Buccaneers, will be playing at home and are quarterbacked by Tom Brady, who's won a record six Super Bowl titles.
Brady's teammate on three of his six titles, all earned when he played for the New England Patriots, was himself a rugby international who played rugby sevens at the 2016 Olympics while he was also performing in the National Football League.
Safety Nate Ebner, now a member of the New York Giants, was a member of the Patriots teams that won Super Bowls XLIX, LI and LIII. Due to an injury, Ebner didn't play in New England's loss to Philadelphia in Super Bowl LII.
Super Bowl And Olympic Games In Same Year
During the calendar year of 2016, Ebner made American sporting history. He played for Team USA as rugby sevens debuted in the Rio de Janeiro Summer Olympic Games. The Patriots granted Ebner a leave of absence to enable him to live out his Olympic dream.
Ebner played in all three matches for the American side in Rio. They opened with a 17-14 loss to Argentina. The second match saw the USA blank hosts Brazil 26-0. Ebner scored a try in the first half and sat out two minutes in the sin bin in the second half after being called for an illegal tackle.
In the USA's final match against Fiji, Ebner scored a try to narrow Fiji's lead to 24-19. But the USA missed the conversion and fell two points short of advancing to the medal round. The American squad ended up finishing ninth in the tournament.
Ebner played internationally for United States age-group sides in 15-aside rugby union play. He played in three Junior World Cups with US Under-19 and Under-20 national teams. Ebner was named MVP for the USA team at both the 2007 and 2008 IRB Junior World Championships.
Returning to the Patriots after his Olympic experience, Ebner played all 16 regular-season games for New England as the Patriots scored a 34-28 overtime victory over the Atlanta Falcons to win the Super Bowl. He became the first athlete to play in the Olympics and the Super Bowl in the same season.
"I'd definitely say it's special to be the only person to ever win a Super Bowl and participate in the Olympics in the same year," Ebner told Giants.com. "That's very cool. I could not have made that team if I didn't play rugby my entire life. But at the end of the day, to be able to be on that team that was fortunate enough to go to the Super Bowl and win it, a lot of that is out of my control.
"I do what I can for the team, but that takes not just the players but the coaches and staff. That takes so many other people, so I was extremely fortunate, lucky to even be in that situation after the Olympics. A lot of things had to fall in place."
Frequently, Ebner hears the same question posed to him - how do the Olympic Games and the Super Bowl compare as events from the viewpoint of someone who's been a competitor in both elite pursuits?
"They're both the pinnacle of their sport,"Ebner said. Obviously, the NFL (gets) huge viewership and is a big spectacle on one day, and it's pretty awesome to be a part of that. But the Olympics are weeks on end. You're on a different continent. You're doing an opening ceremony, you're representing the United States, they're speaking different languages around you, you're in the Olympic Village with 8,000 other athletes around you, you watch other events, you practice, you go do your event - it's just a long, drawn out thing, a completely different experience.
"But they're both extremely special in their own right. I wouldn't trade either one, no doubt. I was just very fortunate for all of that to happen for me because rugby hadn't been in the Olympics since 1924, something like that. A very long time ago.
"The United States is not a rugby nation. No one in the world thought we'd qualify."