Kate Alder Column: 'Come on, who doesn't love an underdog?'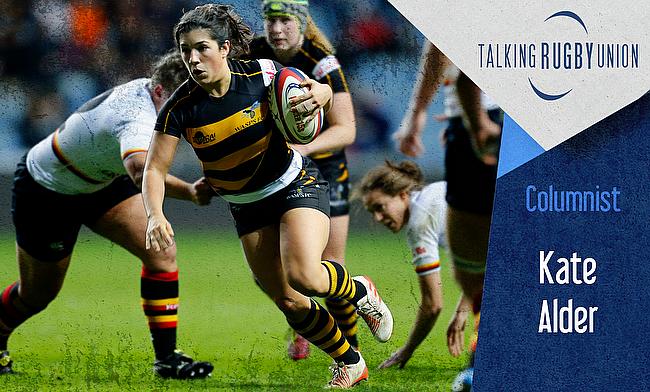 ©TRU
In her latest column for Talking Rugby Union, Wasps Ladies' Kate Alder discusses their strong start to the season, dedication to the club, potential European competition and facing the Tyrrells Premier 15s' top two.
We are in a good position heading into some big games
There is always opportunity to take a win from losing a game.
Historically, we've always suffered early-season defeats and I feel that it is usually those games that we learn most from.
This year, Gloucester-Hartpury took that task upon themselves, beating us at their home ground, leaving us with (more than a few!) stern words from Giselle, hours of video analysis and even more work to be done on the field. However, as a result, we put in a solid 80-minute performance against a very strong Bristol Bears team, again, away from home.
Rest assured, this is not the way things have always been in the women's game! Four seasons ago, away to Bristol, we suffered a 60-point drubbing from the West Country team. We then proceeded to don our fancy dress, tinnys in hand, get back on our bus to London and speak no more of the loss!
Yet with the levels of professionalism in the women's game through the roof; we've won, lost, reviewed, analysed, trained, trained some more and feel in a good position heading into some festive fun – Saracens and Harlequins back to back at home.
You cannot substitute hard graft!
People often question how we compete with the likes of Saracens and Harlequins with significantly fewer full-time contracts, and the answer is simple – hard graft. Some of our players have sacrificed promotions, careers, dream jobs and decent earnings to be able to train at Wasps in the day, putting us in the best possible position come competition. Historically, sessions were Tuesday & Thursday 7-9pm. Fairly standard right? Now, our players train almost every day (with Friday given as a rest day) with sessions including one to one analysis (when it's good it's good, when it's bad…), S&C, skills, fitness, unit work, game play & much more.
With commitment like that, we are starting to see Wasps players represented in the international set up, including Claudia Macdonald who is now on a full-time Red Roses contract, Hannah West on the fringes, and Abby Dow who's playing some of her best ever rugby.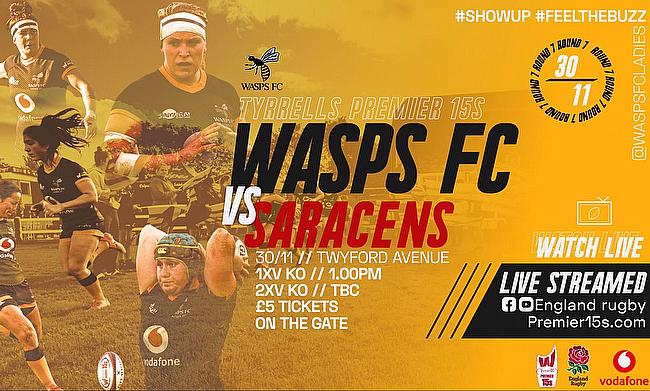 Wasps host table toppers Saracens this weekend
©Wasps Rugby
However, the other factor that I believe leads to our success, and people saying that we are 'punching well above our weight' is the team cohesion that Giselle has built. From monthly team meals together after training, birthday celebrations, Saturday training days and team drama performances in the French mountains – we are a group of players that will go beyond and above for the girls we take to the field with every week.
That is something that you can't buy; it has to be built. Absolutely money is going to play a monumental part in the development of the women's game, but whilst we are still operating at an amateur level, asking players to give up their time, and indirectly money, to play the sport - enjoyment and culture are simply invaluable.
Break? What break!
The second question that we face around this time of year, is how we've found the 'international break – otherwise known (for anyone who's been coached by Giselle Mather) as pre-season round 2. Newsflash: THERE IS NO SUCH THING AS AN INTERNATIONAL BREAK! On session one of the Red Roses heading into camp, we did fitness testing, on session two we did full contact, on session three we ran through plays.
While the international players are off doing their thing, it's an opportunity for us as club players to progress. The coaching team identify two or three key areas that we focus on as a squad, and work hard on improving them as a team. We've also done grappling sessions with Andy Roberts BJJ as, let's face it, you need to be prepared for a battle against the top of the league! So for us, it's a chance to get better, and being the competitive animals that we are, this period of time is perfect. But a break it is not!
European competition would be a good step
As we all know, women's rugby is growing globally day by day. I think I speak for many players when I say the next thing we'd love to see would be the introduction of some sort of European Championship alongside the Autumn internationals.
Having played against the Irish team, Railway, last February and Montpellier this summer, I personally would love the Premiership to make this move forward. It's both challenging and refreshing to play against a different style of rugby (for the non-internationals amongst us), and will only see the English game further improve. Harlequins seem to be one step ahead, as the women taken on Leinster this December whilst their men's team take on Leicester Tigers as part of Big Game 12. If more teams follow suit, then there's no reason we couldn't be looking at a women's European Championship in the very near future.
Sarries await...
Reflecting on our "international break", there's lots of excitement around this week's home game against reigning champions Saracens. Whilst their international players have been away on duty, the Wasps girls have been grafting away in the background, doing what we can, to take it to them on Saturday. It's never an easy game, but it's always one to watch, so tune in live this Saturday to England Rugby to see how we get on. And come on, who doesn't love an underdog?