How South Africa won the Rugby World Cup 2019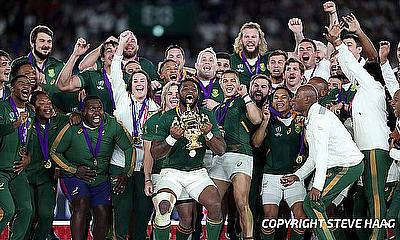 South Africa were not favourites to win the Rugby World Cup 2019. Their path to the World Cup Final was arguably in the weaker half of the draw playing Japan and Wales in the knockout stages, however, it was in the build up to World Cup that South Africa really began to believe they could win.
South Africa coach Rassie Erasmus commented after the Final: "It's weird, I didn't think two years ago we could realistically do it, but six months ago began to and four weeks ago I really did. I am so proud of the players and my country. We stand together, we really believed it and I am proud to be South African.
"The country have gone through some bad times, and we have over the last two years' but our challenge is to make South African rugby strong for the next six or seven years.
"I will make this my mission to make this a springboard to take it the right way."
Punters and fans alike thought after England would have been the favourites, having beaten New Zealand in the semi-final, to go on to win the Final against South Africa. With all their premier league players playing just a week after such a draining performance, maybe it was just too much ask.
England head coach Eddie Jones commented at the end of the match: "We just couldn't get on the front foot. We were dominated in the scrum particularly in the first 50 minutes. When you're in a tight, penalty-driven game, it's difficult to get any sort of advantage.
"We needed to fix up the scrum, little things around the line-out, then get a bit more accurate in how we attacked. We did that for a while, got ourselves back into the game, but in the end we had to force the game and gave away a couple of tries.
"They were too good for us at the breakdown today. That's the great thing about rugby, one day you're the best team in the world and the next a team knocks you off."
2019 Rugby World Cup final
England: (6 Half Time) 12
Pen: Farrell 4
South Africa: (12 Half Time) 32
Try: Mapimpi, Kolbe Con: Pollard 2 Pen: Pollard 6