Grenade Carb Killa Shake review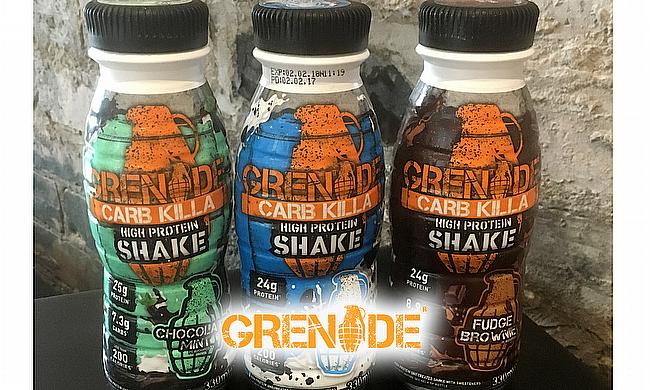 ©TRU
Here we review 3 different flavours from Grenade's new Carb Killa high protein shake range.
'A smooth and creamy high protein drink with under 200 cal (per 330ml), with 24g of protein and 8.9g carbs'
Boasting some impressive stats we try a couple of flavours of the new protein shakes from Grenade, putting the hype to the test.
The product
Each Grenade Carb Killa Shake contains around 25 grams of protein and low number of carbohydrates at 7.3gs. It contains under 200 calories which is perfect for anyone wanting something that hits the right high protein to low carb ratios, as well as being fairly 'guilt' free on the strict diets amongst us. The shakes also only 5g of sugar which is perfect for anyone following a regimented diet plan or low sugar structure.
At the moment the Grenade Carb Killa Shakes comes in a variety of different flavours: Chocolate Mint, Cookies & Cream and Fudge Brownie.
Taste and Texture
Starting off with the Fudge Brownie, this one to me is the 'traditional' tasting ready made shakes, it's the flavour that springs to mind when imagining the more established shakes on the market.
The varient is the slightly deeper, more indulgent flavour of the thick fudge that lingers on the palette. Smells and tatses like a the original (red) Lindt chocolates, which is never a bad comparison to make. This shake appeals to the die hard chocolate fans out there, rich with the fudge, giving a distinctive depth other solely chocolate flavoured shakes on the market don't have.
The Chocolate Mint is just as you'd expect from the title, strong, refreshing hit of mint rising above the chocolate base. In terms of flavour alone, it's as close as you'll get to a liquidised After Eights Mints as your going to get, but with none of the sins and all of the gains.
Lastly onto Cookies and Cream, my least favourite. Obviously this flavour can't rely on the solid chocolate flavoured foundations that the other 2 could, and that means it has to stand alone as a Cookie flavour, which (in the real world) is largely the butter and sugar elements. This leaves this particular shake feeling much more 'articfical' in terms of flavour than the others, having to make up for that lack of chocolate confidence, it has to create the cookie flavour, with the cream being purely literary, and I don't think it quite works for me.
Having said that about the C&C, the textures of all flavours are all spot on, smoothy, creamy, giving huge satisfaction in each mouthful. There isn't any floury or lumpy textures to be found, a very silky end product, slightyl thicker than your standard dairy, semi-skimmed milk product.
Value for Money
Dependant on where you shop, the price varies, but at the lower end you can get 8 x 330ml bottles for around the £15 mark. The leaves you at £2 a bottle (or there abouts) if you are buying 8 at a time, with individual bottles retailing at around £2.49. This is a fair reflection with the other similar products on the market currently, so no great suprises there, reasonable price for the product.
Effectiveness
The Carb Killa shakes, as would suggest in the title, are aimed at the carb conscious gym go-ers out there. On the Grenade site they describe the shake as 'a convenient way to consume additional protein between meals' so not neccessarily marketed as a post-workout drink, more of a top-up of fuel between meals.
Carbohydrates can be important to some diets, functionally Carbs boost insulin levels. The extra insulin actually helps your body to more efficiently utilize the amino acids from the protein, so you rebuild and repair your muscles arguably more quickly.
That being said, people have their own ambitions, if you are looking at getting that lean look, along with keeping calories low this product would work very well between meals, and even post-workout if you are struggling for your usual protein shake or real food hit.

Verdict
Affordable, easy to carry, simply consumed great tasting (2 of the 3 anyway). In the fast-paced era we live in these shakes could easy become a staple in your weekly shop. 9/10