Canterbury's Winter Warmer range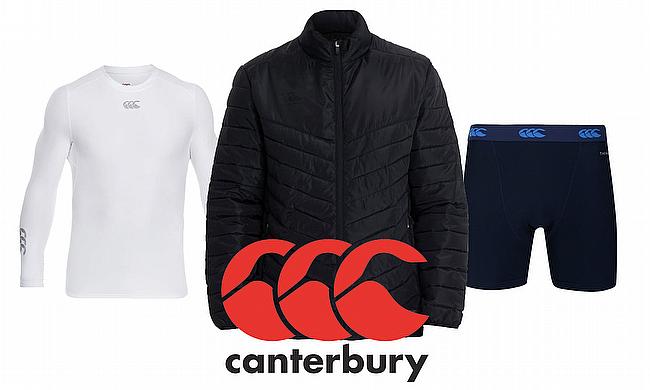 ©Canterbury
We have a look at some of Canterbury's range that will keep you warm this winter whether you are pounding the pavements, trekking up hills or just chilling on the sofa.
Whilst grassroots rugby may be cancelled, Canterbury's wide catalogue of products means there is some kit to help everyone get through this chilly lockdown period.
This is Canterbury's lightweight padded black jacket which has been designed with their ThermoReg technology. It's great for those moments on the side line or supporting your team. The synthetically quilted woven body and sleeves can keep you warm during the coldest of English winters. The jacket has a full-length zip, with a chin guard to stop those annoying nips that can take you by surprise. The black-on-black Canterbury logo works discretely against the dark colour of the body. The fit is a snug and compact one, and after using this in the recent UK snow, it's a proven a trusty cold weather garment.
With a RRP of £70 we would say this is the perfect, affordable coat for this time of year at a lesser cost of the high street rivals.
These ThermoReg shorts are a base layer with Canterbury's ThermoReg technology to help keep you muscles warm when the weather conditions are against you. An extra insulation barrier underneath your usual training gear is essential at this time of year. They are made to wick away sweat from the body, also with quick drying properties which are ideal for a fast turnaround from dirty to washed, dried and ready to go. There construction gives the user plenty of stretch along with an elastic waistline to help to reduce chaffing but providing a secure fit which helps with any high movement activity.
They are on the Canterbury site at £27, which is a reasonable price for a base layer that will help on any cold training sessions where keeping warm is paramount.
With similar technologies at play to those of the ThermoReg shorts this base layer work both out on the field or in the gym. The long sleeves help protect against any harsh winds, creating a barrier against the cold so your body can retain heat for longer. The white colour is a little striking when thinking about how dirty they could potentially get...the silver Canterbury prints down the sleeve works really well against the blank base.
At £39 it's not the cheapest long sleeved base layer out there, but it has the impressive ability to transition between multiple sports, both indoor and outdoor. Versatile.