Rugby Commentator Power Rankings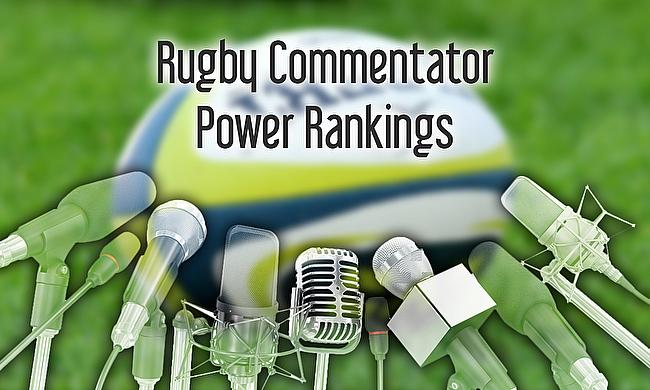 ©TRU
Indispensable to any great sporting spectacle is the commentary that overlaps it.
Whether it's colourful analysis, a careful choice of words or even knowing when to say nothing at all, well-chosen commentary augments the moments millions watch on their television screens, adding context, excitement and a sense of monumentality turns great sporting moments into unmissable ones.
The divergence of rugby across multiple channels and mediums that has accompanied the modernisation of the game has also brought a divergence in the spectacle itself. Indeed, take last weekend's Champions Cup final between Saracens and Clermont for example. Simulcast on both BT Sport and Sky Sports in the UK, which channel you tuned into wouldn't affect the outcome of the game – an impressive Saracens victory – but the men in the box detailing exactly what is transpiring on the field does offer a slightly different view for those watching off it.
With that in mind, I've broken down the four main purveyors of rugby union in the United Kingdom (BBC, ITV, BT Sport and Sky Sports) and ordered them into – to borrow an Americanism – a power ranking format detailing whose commentary and analysis is essential to their on-screen coverage and whose you should probably mute if you want to extract any enjoyment from the game at hand.
1 - BT SPORT
Having only launched as a channel in August 2013, BT Sport is very much the upstart in a group of established broadcasting names. Yet in only four years, BT Sport has upended the manner in which fans consume rugby broadcasts and shown precisely why a new name was needed in the fold, adding vitality and excitement to a sport that has struggled to adapt and modernize itself on television screens since the game went professional.
At the head of an exciting crop of experienced and rookie broadcasters are Nick Mullins and Alastair Eykyn, currently peerless in the play-by-play category. The pair's polished but excitable oration, flexible to adapt to any situation transpiring on the pitch, offers an ideal platform for their colour commentators to build off in providing analysis and explanation of the decisions made by the 30 men participating in the game before them.
Ben Kay and Lawrence Dallaglio are the straight-shooting personalities one would expect given their respective careers whilst Austin Healey – despite his snarky, marmite approach to commentary – is an astute observer and explainer of backline tactics and decision-making.
On the sidelines, Martin Bayfield is a (literally) larger-than-life presence whose affable manner marks him as a superb interviewer and Craig Doyle does an exemplary job as the straight man off of whom BT's cast of pundits can work off.
In a way however, the size of BT's support cast is in itself a hindrance. The ever-expanding and rotating commentary cadre prevents a number of superb pundits – notably David Flatman and Paul Grayson – from getting extended runs in the booth despite their respective excellency at breaking down the game and BT are a little too insistent on shoehorning in current players into their coverage, many of whom are not asked the right questions to gain a unique insight into the inner workings of the teams playing that evening.
Despite these nit-pickings, BT currently stand alone atop the commentating hill, a position unlikely to change as the channel increases its already-formidable share of the televised rugby market.
2- ITV

Given the unique broadcasting deal between BT Sport and ITV allowing representatives of one company to appear on the other, it is unsurprising that ITV are a clear 1A to BT's pole position.
However, it is the way in which ITV have strived to recruit and promote personalities distinct from their competitor-cum-affiliate that is continuing to set the channel apart as it once again attempts to make inroads into the international rugby scene.
A distinct in-house spine of Mark Pougatch, Jill Douglas, and Gabriel Clarke has allowed ITV to differentiate itself as merely being a freeview simulcast of BT Sport, whilst the recruitment of former international stalwarts Jonny Wilkinson and Gareth Thomas have both proved astute additions to the team.
ITV has also done extremely well in adding internationals from both France (Olivier Magne) and Italy (Marco Bortolami) to their punditry teams ensuring all nations are represented for their relevant fixtures.
Special commendation however must go to ITV's utilisation of Women's World Cup winner Maggie Alphonsi, who has proven to be a natural in the studio and has the insight and nous to front her own coverage if afforded the opportunity, ITV would do well to expand her role ahead of next year's Six Nations.
3- SKY SPORTS

The promotion of Alex Payne as lead presenter of Sky Sports' rugby overage alongside James Gemmell was an excellent move to refresh one of the longest-tenured operators in professional rugby broadcasting.
Likewise the addition, and frequent utilisation of, Will Greenwood who might be the most eagle-eyed and perceptive pundit in the entire business full stop is a major plus point in Sky's favour.
Unfortunately, beyond that Sky have struggled to sufficiently adapt their broadcasting coverage and as a consequence now significantly lag behind their largest competitor in BT Sport.
Whilst the experience of ever-presents Miles Harrison and Stuart Barnes is to be acknowledged there is little doubt many fans have become fatigued by Sky's unwillingness to refresh their commentary team, especially ahead of the Lions tour this summer which will mark the pair's sixth consecutive series.
Meanwhile outside of Greenwood, none of Sky's punditry team particularly catch the eye. In an industry in which its competitors are promoting new and insightful voices to dissect an evolving game, Dewi Morris, Ieuan Evans and Sean Fiztpatrick – three white men in their 50s - are not likely to entice a younger and broader audience to Sky.
4- BBC

But Sky can at least take solace in the fact that they're not the broadcaster most in need of a comprehensive overhaul of their rugby coverage. Indeed. it is public-owned Auntie that offer the worst pound-for-pound coverage of modern rugby union.
This year's addition of Paul O'Connell into the booth during the Six Nations was an encouraging step in the right direction but beyond the former Irish captain, the Beeb's pre, half-time and post-game coverage makes one almost wish for the corporation to introduce adverts during its sporting broadcasts.
As the lead presenter and face of the BBC's rugby coverage, John Inverdale's incoherent, Partridge-esque ramblings are a serious indictment of his professionalism – as are his infamous sexist, racist and otherwise inaccurate remarks. Even if those serious flaws are ignored, Inverdale elicits as much excitement in the viewer as watching paint dry.
Unfortunately, his cohorts are similarly uninspiring. Jeremy Guscott has the personality of a deflated rugby ball with the insight to match, often resorting to tired clichés to explain the events of the game he's paid to analyse. Jonathan Williams is unequivocally one the most one-sided commentators to ever forge a post-playing broadcast career and it is simply embarrassing that the BBC allows him to commentate on Welsh international fixtures. Martyn Williams is fine. And as astute as he is in analysing the scrum, Brian Moore's incessant tirades regarding the state of modern scrummaging have become as tedious as watching a scrum being reset for the sixth time.
Unfortunately, the one interesting personality the BBC could boast in Keith Wood – as well as Moore who, scrums aside, is a strong commentator and pundit –recently left the company. O'Connell might ultimately be the ideal replacement, but finding another character as interesting as Wood is only a small aspect of a much more endemic disinterest the BBC offers in its rugby coverage.